GFR – System solutions for building management and energy management, building and room automation
GFR – Gesellschaft für Regelungstechnik
und Energieeinsparung mbH
was founded on 1 January 1978 in Verl, Germany.
As one of the leading providers in our industry, we develop and distribute innovative system solutions for building management and building automation throughout Germany and Europe along with our branches, subsidiaries and partners.
Our company is certified in compliance with the DIN EN ISO 9001:2008 quality management system.
Our own development department reacts quickly and purposefully to ensure well-timed integration of modern technology in proven structures.
The open and modular system architecture of GFR products allow you to expand the system as your company grows. GFR customers have a key advantage at their fingertips: investment security.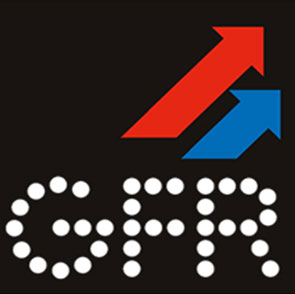 GFR has been a member of the WIEDEMANN group of companies in Sarstedt since 1995. WIEDEMANN is one of the leading suppliers of home automation and industrial supplies.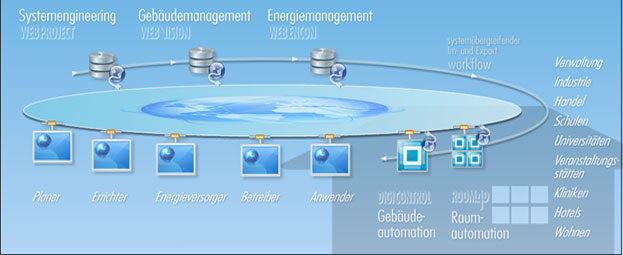 Products and Solutions
Holistic and universal system solutions ranging from planning to installation and right up to long-term operation and optimisation of the building systems
The comprehensive GFR portfolio is oriented towards investors, planners, installers and operators of modern real estate properties, to whom we offer innovative solutions for building and energy management systems as well as building, industrial and room automation systems with our products.
DIGICONTROL – Energy efficient building automation and industrial automation
The approach of meeting eco design requirements for buildings involves the use of complex building automation systems.
DIGICONTROL includes all necessary components to equip modern properties with the latest building automation systems and to safeguard the interoperability between equipment of different manufacturers.
WEBVISION 5 – The new generation of building management software
About 80% of the total costs arising within the life cycle of a building account for the operation of the building.
The share of all buildings in the world-wide primary energy consumption is at 40% per year.
Thus, there is a huge potential to contribute to the economy and responsible use of resources by effectively operating buildings. WEBVISION 5 takes up this challenge and integrates all systems of the technical building services into the building management system. This generates strong synergies with manifold applications, e.g.:
• Increased security
• Extended functionality
• Optimised energy-efficiency
• Improved comfort
Energy savings of up to 20% are realistic.
WEBVISION 5 was developed in-house and is based on our 35 years' experience in creating
intelligent building management systems.
Our emphasis is on users and operators:
• Intuitive operation
• Tailor-made individual solutions
• Customised user interfaces
• Advanced search function
• Simple visualisation of historical data
• Immediate overview of notification and alam priorities
• Individual screens on stationary and mobile devices
DIGIVISION | WEBENCON – Energy management
There is no doubt about the necessity of an energy management system for modern companies as there are many reasons for establishing a professional energy management system in order to reduce energy costs, to improve the competitiveness, to protect the environment, to improve the image, to get a better transparency with regard to energy consumption data, to allocate usage-related energy costs or to take advantage of regulatory subsidies.
We support you in the process of introducing and certifying an energy management system in accordance with ISO 50001.
We advise you of how to take advantage of government grants and subsidies.
We help you to develop a tailor-made measuring point concept which completely meets your demands.
We integrate our energy management software WEBENCON in the existing data structures and IT systems of your company.
ISO 50001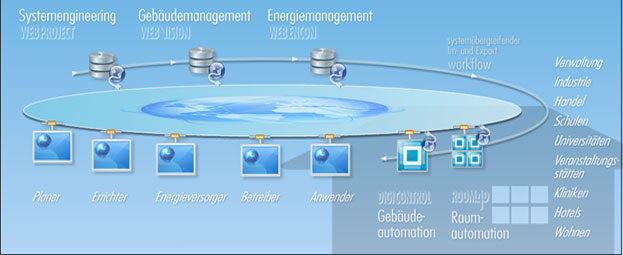 It goes without saying that the efficiency and success of the energy management system will not be left to chance. An energy management system will be usually introduced which includes all elements of the organisation being necessary for establishing an energy policy, setting strategic objectives and achieving them. The standard DIN EN ISO 50001 "Energy management systems – requirements with guidance for use" defines the organisational measures for the gradual implementation of a professional energy management system.